1. Decorator Andrea Brodin's apartment in Stockholm
This is a dream come true for art deco lovers. Here, shimmering furniture legs intermingle with mosaic tiles, pineapple-shaped lamp bases and candy-coloured walls in the 124-square-metre home. Brodin's grandparents are the greatest source of inspiration for the art deco influences.
"When I was little, my grandmother and grandfather had an apartment in Monaco where I have many childhood memories from, and above all, I thought they had an absolutely amazing home! It's fun to weave in the old, especially when there is such a strong personal connection."

Photo: Kronfoto – Sök designinspiration för eklektiska vardagsrum
2. The former church in Oxelösund
The old Baptist church was converted into a superb home of Gisela and Svante Larsson. "We felt that the house asked us to take care of it. It is still a spiritual place, you feel peace staying in our home. It isn't something that only we think, our guests say the same thing. It is in the walls," Gisela says about the home, decorated with many special things.
"We have nothing from Ikea, half of the fun is to hunt for the good stuff. It may take two years to find the right thing, but that's fine."

Photo: Nadja Endler | Photography – Upptäcka inredningsidéer för rustika fasader
Architect Niklas Larsen acted mostly on a whim when he moved to Hablingbo on the island of Gotland with his family and transformed a 100-year-old engine shed into an interior design paradise. "We started out with a grey palette, natural materials and brought a natural form to the interior. We wanted to keep the building's industrial charm, without removing or emphasizing it with the things that we added," says Larsen.
4. The architect's low-key luxury on Ekerö
"I call it sophisticated simplicity," says architect Paul Ross about his self-designed home, which he built in 2008. The house does not look like traditional Swedish homes do, with its round shape.
"Who decided that a house must be square? If you look at nature, there are only organic, round shapes, the same thing goes with boats that I am very inspired by, and the human body. Why do we suddenly, when it comes to accommodation, have to turn it into a box?"

Photo: Fredric Boukari Photography – Sök inredningsidéer för skandinaviska fasader
5. A cottage in the countryside of Gotland
At the edge of the limestone quarry of Gotland, we find this magnificent summer home. The house was built for a young couple who had a tight budget and a small plot of land available. Skälsö arkitekter (Skälsö architects) helped make their dream of a simple and sparse house, perfect for their needs, into reality.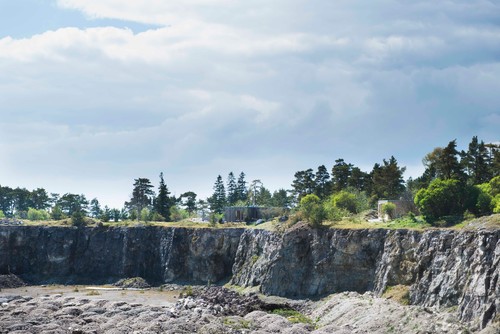 Photo: Skälsö Arkitekter – Upptäcka idéer för moderna heminredning
The Sälling family swapped their house just outside of Stockholm for this beautiful apartment in the Old Town. The apartment is located in a building from the 17th century that was originally used as a coffee warehouse. But how do you decorate a home that already has so much character? Just as you have always done, if you ask Lizette Sälling: "We have had most of the furniture for 10-20 years. We have never made a sharp turn in terms of the interior, we have always liked the same kind of style and feel."
7. Triangular house in Dalarna
A plot in the middle of a cow pasture became the place for the summer house of architect Leo Qvarsebo, which took on a slightly different shape. "I did not want to line up the rooms, so instead I decided to stack them on top of each other. The result is a tent, basically, where there is space for the three functions cook, read and rest," says Qvarsebo.

Photo: Leo Qvarsebo – Hitta bilder av skandinaviska fasader
8. Minimalistic on the West Coast
This house looks quite different. The design was created by architect Torsten Ottesjö: "I wanted to create an ideal interior, a house that is completely integrated into the surrounding landscape and not full of only right angles and unused space – space that most people only use to store boxes and other things in", he says.

Photo: Torsten Ottesjö – Sök inredningsidéer för skandinaviska fasader
Tove and Joakim Sventoft saw the potential of the old flour mill and decided to turn it into a beautiful home. Now the family has lived in the enchanting building for four years, and during that time they have successfully created a home that fits them like a glove, without for a moment losing its history.
10. Climate smart in Visby
In the spring of 2015, this silver grey wooden house, Villa P & L, was finished. "I chose to use climate zones in the home as the family's life is not always static. Sometimes you have more people at home and sometimes fewer. The family should not have to heat the entire villa if everyone is not at home, the zones are therefore both good for the economy and the climate," says Martina Eriksson, architect behind the project.

Photo: m.arkitektur – Bläddra igenom bilder av skandinaviska trädäck och balkonger
Get more inspiration in The Local's Homes section
Come see more Nordic lifestyle, design and architecture over at houzz.dk and houzz.se.