Presented by invest stockholm
The tech hub that offers work-life balance as well as digital innovation
Cities today don't just compete on raw economics. They're also in competition to show themselves as leaders in sustainability, digitalisation and quality of life.
For many talented individuals with an international mindset, such factors matter more than a higher salary or other financial incentives.
A recent report on talent from Invest Stockholm suggests the Covid-19 pandemic could see such people "shunning 'megacities'" in favour of sustainable cities that match their lifestyle values. 
Here, we look at how Stockholm compares internationally in terms of sustainability, as a tech hub, in broader digitalisation, and in the standard of English.
A city that protects the planet
Stockholm has long had a reputation for sustainability – and was named the first European Green Capital by the European Commission back in 2010. So, what about now with major cities everywhere eager to prove their green credentials? 
In the latest Arcadis Sustainable Cities Index (SCI), designed to look at sustainability "from the perspective of the citizen", Stockholm ranked second to London among 100 global cities. The rankings are built on three pillars – people, planet and profit – which closely align with the UN Sustainable Development Goals.
Stockholm ranked number one globally on the 'planet' pillar, thanks to investment in sustainable infrastructure (including measures to promote cycling), low emissions and good air quality. This is no surprise to Irish-born Elaina O'Shea, who chose to move to Stockholm partly due to her desire "for an active, outdoor lifestyle".
"Everywhere is reachable by bike, tap water tastes great, the air is so clean and housing is dry and warm," she says. "As a cyclist or runner, I can go anywhere without choking on car fumes. The mentality in business also prioritises reducing waste."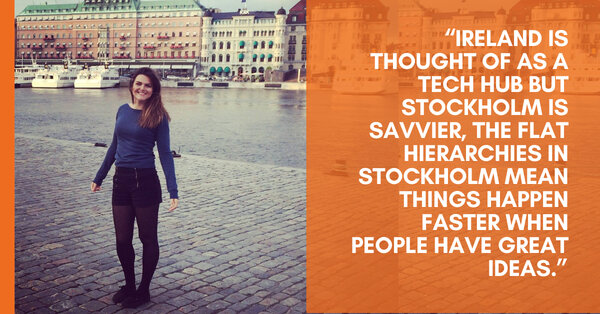 Stockholm also comes in the top ten of the Arcadis Sustainable Cities Mobility Index for urban transport. The city was one of the pioneers in introducing a congestion charge to reduce road traffic at peak times and is currently expanding its metro system.
Heating and hot water in apartments comes mainly from district heating with much of the power generated from biofuel and household waste. 
A city of unicorns … where people come first
When you think of start-ups and unicorn companies, you probably think firstly of Silicon Valley. But did you know that Stockholm produces more billion-dollar companies per capita than any region except the Californian tech hub?
Looking for new career or business opportunities? Get free advice on how to get connected to Stockholm
Spotify and Skype are perhaps the biggest names to emerge from the Swedish capital, while gaming giants like King and Mojang (the developer behind Minecraft) have also made their mark internationally.
O'Shea has previously lived in London and Dublin but says when she decided to go into the tech industry, she knew she wanted to make Stockholm her home.
"Ireland is thought of as a tech hub but Stockholm is savvier," says O'Shea, who now works in software as a service (SaaS). "The flat hierarchies in Stockholm mean things happen faster when people have great ideas."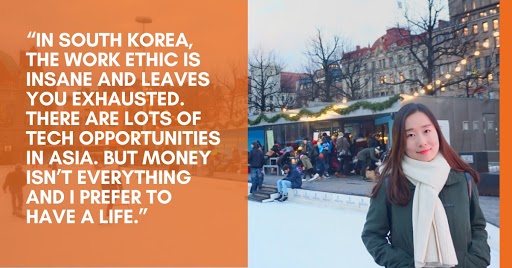 Ting Liu, a software engineer originally from China, moved from Berlin to Stockholm just over a year ago. She has also lived in South Korea and Spain.
Like O'Shea, she finds Stockholm to be highly efficient while still encouraging real work-life balance. "In South Korea, the work ethic is insane and leaves you exhausted," she says.  "There are lots of tech opportunities in Asia. But money isn't everything and I prefer to have a life." 
In fact, her salary isn't much different to what she earned in Seoul, she adds, but in Stockholm "you feel respected as a human being".
Digital society: helping you get things done
International residents are used to dealing with bureaucracy. But it doesn't mean they want to tolerate it being unnecessarily – or tortuously – slow. In Stockholm, there's not much to fear with the city offering residents more than 100 e-services across many areas.
The European Commission's Digital Economy and Society Index (DESI) ranks Sweden as one of the EU leaders in digitalisation; it comes second behind only Finland and well ahead of major economies like the UK, Germany and France.
Residents and businesses benefit from fast broadband throughout Stockholm and residents have a huge choice of fast payment options, as Sweden leads the race to become the first almost cashless society.
Liu says getting a German work permit required lots of paperwork and took almost three months, she says, whereas in Stockholm she got one in under a week.
"In Berlin, you do lots of things by sending letters and you still rely heavily on cash. In Stockholm, you can always pay by card and lots more things can be done online. You don't need to make an appointment and visit the registration office just to change your address." 
It's easy to get by in English
International residents of Stockholm find the level of English in the city also makes their lives far easier. Liu says she hasn't started seriously studying Swedish due to the pandemic and her preference for face-to-face learning. 
"Everyone here, including the cashiers in the supermarket, speaks fluent English and that's a big advantage," she says. "In Germany, I didn't speak the language and quite often I couldn't communicate with people outside of work."
Sweden has long been one of the worldwide leaders for English as a second language and recently placed fourth globally in the English Proficiency Index.
Want new opportunities and a better quality of life? Get free, tailor-made advice on business in Stockholm – and follow these links for Stockholm's Talent Guide and Entrepreneur's Guide.
This content was paid for by an advertiser and produced by The Local's Creative Studio.
See Also