If you don't know the language and perhaps have few or no connections in the country, the situation can look bleak. But international residents can give their prospects a huge boost by applying to Jobbsprånget, a government-backed internship programme aimed at professionals with degrees in engineering, architecture, science or business/finance.
It enables you to make real use of your skills once more – and seven out of ten participants find a permanent job. The Local spoke to two foreigners, who had worked in their respective fields for years before moving to Sweden, about why an internship was a necessary step to bigger things.
A giant leap to a Swedish job: find out more about how to apply for Jobbsprånget's next round of internships – open until January 16
Get paid for your competence, skills – and passion
"I was starting from scratch," says Mamtha Pullat, recalling the period after moving from India to Sweden in 2018 following five years working in the development sector in her home country. "I attended a lot of job fairs and handed my CV to a lot of companies. I landed a couple of interviews, but I didn't get any offers and I really wasn't getting any feedback that could help me." 
Pullat discovered Jobbsprånget through the network she's been building over the past two years. She said the programme is a win-win for both those looking for work in Sweden and companies in need of talented professionals. 
"It's very different from other internship programmes because it caters to people with a degree and professional experience," Pullat says. 
She did an internship with Telia, which she was then able to convert it into paid employment as a diversity and inclusion specialist at the multinational telecoms firm. The job fits well with her personal interests, her background in development and her degree in business administration. 
"I'm extremely happy that it ties in with what I'm passionate about," she adds. 
Pullat's path has been complicated by the pandemic. She decided to move from Gothenburg to Stockholm for the internship in March – but was sent back to work from home after only a week.
"Even though it's been remote, I don't feel I missed out on anything because Telia has done a really good job of adapting to the new normal. It's been very easy to connect with people, build my network and work on different projects," she says. 
Applicants to Jobbsprånget don't need to speak Swedish, as the programme language is English – but you do need to be registered at Arbetsförmedlingen, the Swedish Public Employment Service.
Kick-start your Swedish career with Jobbsprånget – find out how to apply now or to learn more about the requirements to apply click here
The architect with new grounds for optimism
Ahmad Shawi, an architect originally from Syria, is blunt about his initial job search process after moving to Sweden two years ago from Cyprus. "It went really badly. Joining the Swedish job market is very hard," he says, estimating that he applied for over 50 jobs to no avail. 
Soon after being accepted to Jobbsprånget, Shawi landed an internship with Stockholmshem, the capital region's largest housing company.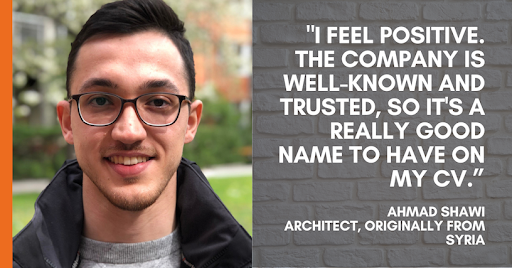 Photo: Ahmad Shawi/Stockholmshem
"I help digitize and update existing floor plans for older buildings," he says. "I believe you need to be an architect to have a good understanding of this stuff. You have to recognise changes between the old drawings and the current realities and then take those into account when you draw up the new floor plans."
Stockholmshem had previously been contracting with an architecture firm every time it needed to update floor plans, a complicated and expensive process. But the company's head office learned what Shawi was doing at its Skarpnäck branch and offered him a paid job that runs until the end of the year. He dreams of one day opening his own architecture firm and now feels confident about his chances. 
"I feel positive. The company is well-known and trusted, so it's a really good name to have on my CV," he explains. 
Although has been working almost entirely remotely, he's still made new friends and important professional contacts. "I'm very satisfied because I think it's now going to be a lot easier to get a job. It's difficult right now with coronavirus but I think I'll find something," Ahmad says. 
Taking the initiative
It's common for skilled workers to feel they have a mountain to climb to crack Swedish workplace culture, according to Sofi Tegsveden Deveaux, an expert on introducing foreign professionals to Sweden and co-author of 'Working in Sweden: The A–Z Guide'.
Deveaux says many newcomers, and probably many Swedes, have a too rosy picture of the country's openness to foreign professionals. "I think Swedes aren't as international as they believe," she says. "They're in their own bubble. It's very difficult for Swedish employers to recognise foreign qualifications because they just don't know much about it." 
Foreigners' unfamiliarity with how Swedes do things can also create problems once you have landed a job. "Many people come from very hierarchical cultures, so they tend to be very loyal and obedient, whereas a Swedish workplace often expects you to take the initiative," Deveaux said. This can create big problems during internships, she warns.
"If you're sitting there waiting for something, it'll be seen from a Swedish perspective as being quite passive. Even though you're an intern, you're expected to speak up and behave more as an equal," she says.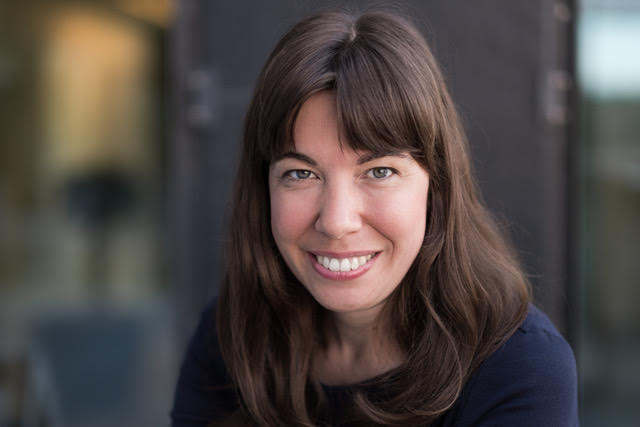 Photo: Sofi Tegsveden Deveaux
Deveaux offered an online webinar on the dos and don'ts of Swedish work culture to Jobbsprånget participants during the pandemic. She said companies were initially hesitant to take on interns who would work remotely but most have since adapted. 
So the opportunities are there – especially as you don't need to speak Swedish to join the programme but can learn it on the job. "A 'språng' is a leap," says Deveaux. "Instead of taking a slow route to a job, this allows you to take a giant leap." 
Seven in ten participants on Jobbsprånget's internships find employment. The current application period runs from December 16th until January 16th – click here to find out more or to apply now.