Who can travel from the UK to Sweden?
There is currently a ban on entry to Sweden from the UK due to the spread of a new infectious variant of the coronavirus. But a few groups of people are exempted from the ban, meaning if you fall into one of these categories you can still enter Sweden.
Swedish citizens (including people with dual citizenship) may still enter Sweden and do not need to show proof of residence or a negative Covid-19 test result.
People who live or work in Sweden may also enter the country, even if they do not hold Swedish citizenship. People in this category may be asked for proof that they live or work in Sweden, and must show a negative Covid-19 test.
There are a few further categories which are exempt from the entry ban, including people travelling for urgent family reasons or for other essential purposes such as transporting goods, diplomatic and consular staff and their families. You can find the complete list from the Swedish police. Urgent family reasons, according to the police, can include "emergency situations such as childbirth, palliative care and funerals".
You cannot get a pre-approval from the Swedish police so should bring with you proof that you fall into an exempted category. 
People who do not fall into any of these categories cannot enter Sweden, which means it is currently not possible to travel to Sweden from the UK in order to move to Sweden, to visit friends or family, or for tourism. 
What test do I need to take?
As of January 1st, people who live or work in Sweden and are travelling from the UK need to show a negative Covid-19 test result, otherwise they will be turned back from the border.
This test must have been taken no more than 72 hours before your arrival in Sweden, and it must be a test for an ongoing Covid-19 infection, not an antibody test.
According to Swedish border police, the test should have come from "an authorised laboratory"; police have confirmed to The Local that they are using a list of private test providers authorised by the UK government as a reference; find a full list of these on gov.uk. That means the safest way to arrange your test is by going through one of these providers.
The police spokesperson told us that tests carried out by the NHS would also be accepted, despite not being on the list above (in order to avoid a burden on the healthcare system caused by people getting tested in order to travel). NHS tests are only available in the UK for people with coronavirus symptoms, so most travellers will need to pay for a private test. 
When The Local asked Swedish police whether rapid tests can be accepted as an alternative to PCR tests, we were told: "To enter [Sweden], it is required that the traveller show a negative test result for an ongoing Covid-19 infection." We have asked for further clarity on whether negative results from antigen, LFT or LAMP tests will be accepted.
The Local has heard from at least one British national who was allowed into Sweden with a rapid antigen test, but remember that the decision is ultimately up to border police on entry.
You do not need to show a test result if you have Swedish citizenship, even if you are travelling on your British passport. In that case, make sure to have proof of your Swedish citizenship. Family members of Swedish citizens are not exempt from the test requirement.
After arriving in Sweden from the UK, all travellers are asked to take a PCR test on the day of their arrival, and a second test five days after arriving. You should also self-isolate for seven days.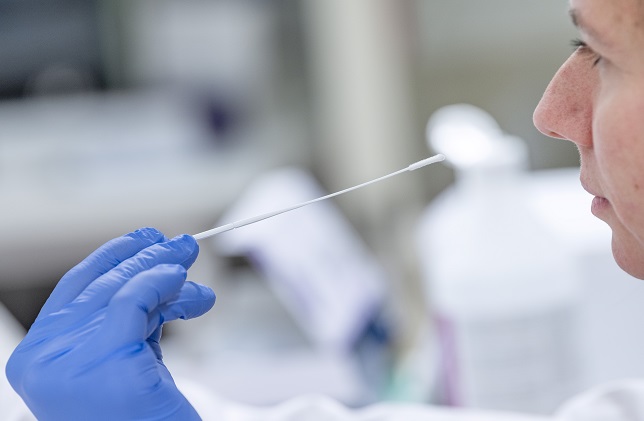 Photo: Johan Nilsson/TT
How do I get my test in Sweden?
If you are registered in Sweden, you can visit the 1177 website to find out how to book a test in your area.
If you can't book a test via 1177, you should contact a local doctor's surgery (vårdcentral) by phone and ask to book a test.
The coronavirus test is free in Sweden.
Do I need to isolate after arriving in Sweden?
Yes. Anyone arriving in the country from the UK is urged to isolate for seven days and take two coronavirus tests; one on the day of arrival and another five days after arriving. This applies to both Swedish and non-Swedish citizens, whether you needed to show a negative test on arrival or not.
 
Isolating means avoiding close contact with all other people and staying at home, so you may need to arrange for groceries to be delivered for example, and work from home or take time off if that's not possible. If you live with other people, including children, they should also stay at home (including staying home from work or school) until seven days have passed since your arrival.
Testing and isolating on arrival in Sweden is not legally enforced, but is a recommendation from the Swedish Public Health Agency which everyone should follow. If you can't work from home but need to isolate, you may be entitled to disease carrier's benefit, and can find out more by contacting the Swedish Social Insurance Agency (Försäkringskassan).
How do I prove my residence in Sweden after Brexit?
As the post-Brexit transition period has now ended, travellers must comply with new rules for travel between the UK and Sweden. Until January 21st, British nationals may only enter Sweden if they live or work in Sweden.
This means you will need to prove your residence when you arrive in the country.
The easiest way to do this is if you have a Swedish ID card or personnummer, but you do not need to have these in order to be resident in Sweden.
Another option is to apply for the post-Brexit residence permit in Sweden. If you have applied for this, you should have proof of your application, and this document guarantees your right to continue living in Sweden at least until a final decision is made, so you can show this on arrival in Sweden. British nationals living in Sweden have until September 2021 to make their residence permit applications, so you don't need this document in order to be permitted to enter, but it might make the process smoother.
If you don't have either of these documents, you should bring with you other forms of proof that you have resided or will reside in Sweden for at least one year. That could be a rental contract with your name and address on it, or an employment contract or pay slips for example.
If you fall into one of the exemption categories for the travel ban, but are denied entry to Sweden, British nationals can contact the embassy by calling +46 8671 3000. The British embassy also has a consular presence at Gothenburg Landvetter and Stockholm Arlanda airports as of January 4th.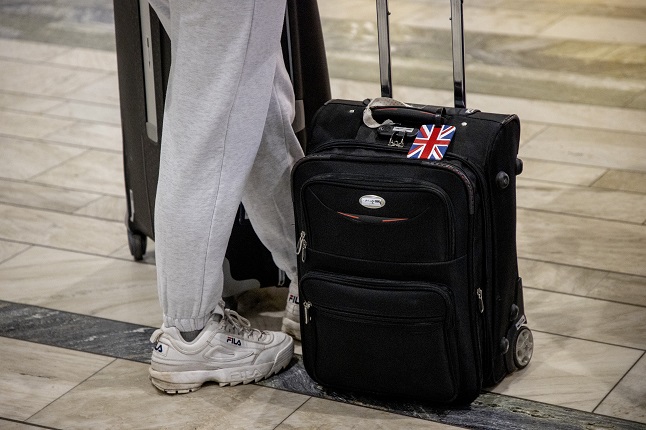 Photo: Adam Ihse/TT
Are flights running?
Flights are still operating with several airlines between the UK and Sweden, but check with your airline what applies to your planned departure.
How long will these rules be in place?
The entry ban, and the exemptions outlines above, are currently in force until January 21st, 2021. 
Rules around showing a negative test result and isolating may change at short notice.
Where can I find out more?
We will update this page regularly, but The Local is not a government authority.
If you need urgent consular assistance, British nationals can contact the embassy by calling +46 8671 3000. The British embassy also has a consular presence at Gothenburg Landvetter and Stockholm Arlanda airports as of January 4th.
If you need further information, please refer to one of the authorities listed below.