Around 50-70 centimetres of snow was expected to fall in the Västernorrland region between Monday and Tuesday, said Sweden's national weather agency SMHI.
It's the first time in at least ten years that SMHI issues a class-three – or red – weather warning (the most serious on a scale from one-three, or yellow-red) for heavy snow, wrote the TT news agency, adding that some areas may get close to one metre of snow.
There was also a class-two snow warning in place for Jämtland and coastal areas of Västerbotten, and a class-one warning for either snow or ice in nearly all of Sweden.
You can check current weather alerts in your area of Sweden here.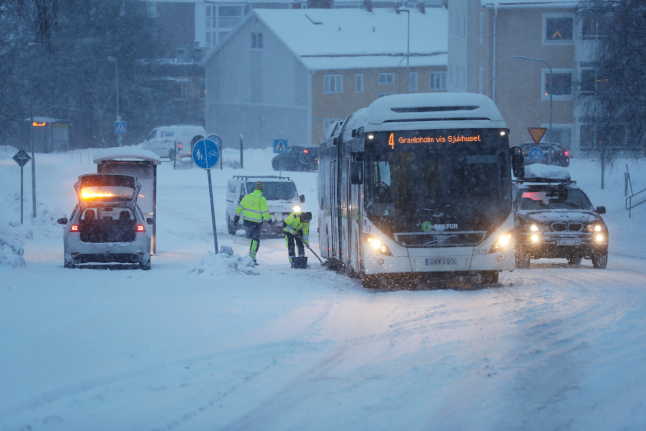 A bus got stuck in the snow in Sundsvall on Monday. Photo: Mats Andersson/TT
Sweden's Transport Administration meanwhile said it would not allow any trains to travel between Umeå and Sundsvall – two major northern hubs – from Monday 8pm.
The railway was not expected to reopen until noon on Wednesday.
Drivers in Västernorrland in particular were told to stay at home if possible.
"Road users should not head out on the roads unless they have to! In that case, make sure to keep your distance from fellow road users, and prepare by bringing a fully charged mobile phone, water, blanket, warm clothes and something to eat. Make sure you have plenty of fuel in your vehicle," warned the Transport Adminstration.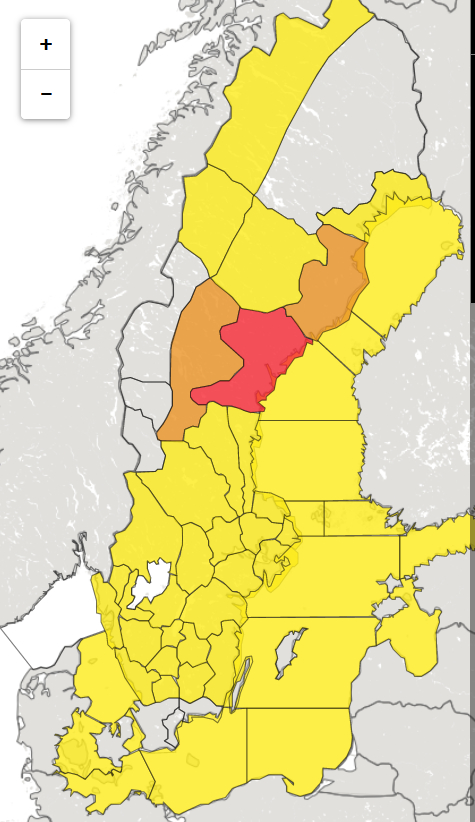 SMHI's map of weather alerts as of 5.30pm. Find a detailed description here. Photo: SMHI
In the city of Örnsköldsvik, schools will be closed on Tuesday and Wednesday, reported local newspaper Allehanda. Sundsvall also cancelled Tuesday teaching, but said schools would remain open for parents who are not able to stay at home with their children.
Kramfors said its schools would remain open, but that children would be free to choose to stay at home.
"We're not going to force any children to come to school tomorrow," Stefan Karlstedt, head of compulsory education in Kramfors, told the TT newswire.