Distance learning at upper secondary schools
Distance learning has been recommended by the Public Health Agency (Folkhälsomyndigheten) in Sweden's upper secondary schools (gymnasieskolor, usually for children aged 16-18) since December, and is currently in place until January 24th.
We are likely to find out what has been decided by the Public Health Agency and National Agency for Education (Skolverket) on Thursday, said Sweden's state epidemiologist Anders Tegnell. 
Peter Fredriksson, Skolverket's general director, told the TT newswire he thought a full re-opening of these schools was unlikely due to the current serious state of the pandemic.
"If we return to teaching in school it should be on the basis of a reduced spread, but the signals we're getting are that we have a continued extensive spread of infection," he said.
In lower secondary schools (högstadiet, usually for 13-15-year-olds), different schools and regions have taken different decisions regarding distance learning. There is no national recommendation for this age group, but schools have the option to switch entirely or partially to distance learning if necessary to limit crowding either in the school or on public transport.
(article continues below)
See also on The Local:
Ban on post-8pm alcohol sales
Sale of alcohol at bars and restaurants has been banned after 8pm since December 24th, and before that the ban applied to post-10pm sales.
The Ministry of Health and Social Affairs has proposed extending this ban until February 7th, and the government is expected to make a firm decision later in the week. If it is not extended, the previous ban on post-10pm alcohol sales would still apply, rather than returning completely to normal.
This ban is legally binding, not a recommendation, so businesses found violating it could face legal sanctions.
Another ban was brought in for restaurants on December 24th, limiting the maximum number of guests per group to four, which applies until further notice.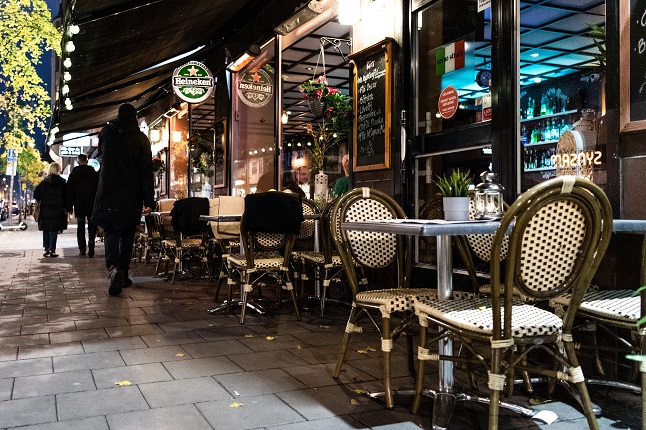 Photo: Amir Nabizadeh/TT
Closure of non-essential public services
All non-essential public services run by the state, regions and municipalities were on December 18th urged by the government to close with immediate effect until January 24th.
This caused confusion since the government and Public Health Agency initially included libraries in the list of services to close, despite the Libraries Act in Sweden defining them as essential and requires that they be kept open. After the Public Health Agency removed them from its list some days later, many municipalities reopened their libraries in early January, including in Malmö and Gothenburg, while they remain closed in Stockholm until the 24th.
Exceptions were also brought in for outdoor sports facilities, as long as these followed other public health recommendations such as ensuring distance between participants.
It isn't clear whether the regulation, which applies to swimming pools and museums for example, will be extended beyond January 24th. Even if it is not, individual municipalities may decide to keep their services closed anyway. Stockholm, for example, closed its state-run museums in October long before the national recommendation.