"We see certain signs of improvement in some parts of the country, but the situation is still so unstable that the Public Health Agency sees no reason to ease the restrictions," said Johan Carlson, the Public Health Agency's General Director.
Prime Minister Stefan Löfven said that the measures had not been taken lightly, but that they "are needed in order to save lives".
Distance learning for over-16s until April 1st
The current recommendation for upper secondary schools (gymnasieskolor, usually for 16-18-year olds) to switch to remote learning was extended until April 1st.
From Monday January 25th however it will be adapted so that schools may have some parts of teaching in-person, in combination with distance learning.
The decision is up to the managers of the school, which might be the municipality or a school board in the case of independent schools, and should be based on the level of infection in the area. Regional infectious disease physicians are expected to keep school managers up-to-date on their recommendations.
"It is not reasonable to have distance learning the whole time in the whole country when the situation is as varied as it is," said Education Minister Anna Ekström.
Asked why the decision had been made so late, Carlson said that it took time to analyse the infection data after delays caused by the Christmas and New Year public holidays.
(article continues below)
See also on The Local:
Ban on post-8pm alcohol sales until February 7th
The ban on alcohol sales at bars and restaurants after 8pm was extended for a further two weeks, until at least February 7th. 
Health Minister Lena Hallengren was asked what impact the limit on alcohol sales has on curbing the spread of infection, after state epidemiologist Anders Tegnell said on Tuesday he had "no opinion" from an epidemiological perspective.
"It's about the overall picture, we have taken many measures," she said.
Prime Minister Stefan Löfven said that pubs and bars were a risk environment, adding that individual judgment may also be affected by alcohol intake.
The maximum number of people who can sit at one table in a restaurant or bar remains unchanged at four. 
Non-essential public services closed until February 7th
Municipalities and regions are urged to keep non-essential public services closed until at least February 7th. This includes for example swimming pools and museums. It doesn't apply to libraries, and many are currently open for essential purposes. Stockholm was one of the municipalities that kept libraries closed, but they will reopen from Monday, January 25th.
Employees at state agencies are also required to work from home until at least February 7th.
Face masks on public transport
The recommendation to wear face masks on public transport meanwhile was extended "for the rest of the spring". This applies between 7-9am and 4-6pm on weekdays, and is not legally binding.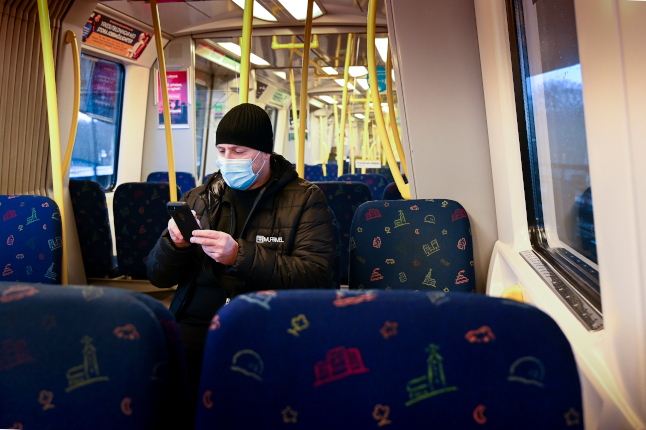 Photo: Jonas Ekströmer/TT
Decisions every two weeks in future
Health Minister Lena Hallengren said that the government and Public Health Agency would review the restrictions and recommendations every other week going forward, unless there was a "dramatic change" in the situation regarding the spread of the virus.
"So the next time there will be a new announcement on restrictions will be in two weeks," she said.
Hallengren also said that this means the dates February 7th and April 1st should not be seen as fixed deadlines, but are the earliest that the recommendations could be lifted. Whether they are lifted, relaxed or made stricter will depend on the state of the pandemic.
Working from home 'the most important'
The ministers also emphasised the importance of everyone in Sweden continuing to follow the national recommendations in addition to the legally binding measures.
These include for example limiting social contacts, avoiding non-necessary travel, and working from home if possible.
"Making it possible for staff to work from home is the most important thing an employer can do right now," said Löfven, adding that working from home if possible was also the most important thing most individuals could do, and will be necessary "for some time to come".
"I understand that many people have limited their lives in the way that is required at the moment. You want to hug your grandma, you want to go to the football, you want to gather at a big dinner table again. We aren't there yet. That day is coming, but we are not there yet, so keep going," he said to conclude the conference.
Labour Market Minister Eva Nordmark said her understanding from discussions with trade unions and employers' organisations was that "the vast majority of employers understand the importance of and are following the recommendation [to ensure employees work from home if possible], but it is also obvious that more needs to be done".
The Work Environment Authority has also now been ordered by the government to carry out inspections of working environments where employees can't work from home, such as in shops, schools, healthcare facilities, and public transport.
What about the pandemic law?
Sweden has since January had a pandemic law in place, which gives the government increased powers to restrict opening hours and maximum numbers of people at shops, gyms, and public places like parks and beaches for example, and also allows for closures of businesses.
So far the government has not closed any businesses or introduced limits at outdoor places under the law. But it has introduced maximum limits of people (one per ten square metres of usable space) in shops and gyms.
"If these restrictions are not sufficient to avoid crowding and limit the spread of infection, the government is ready to do more," said Hallengren.