This year will once more see 28 songs compete for the chance to represent Sweden at the Eurovision Song Contest, to be held in Rotterdam this May. It will take six weeks of Saturday night primetime viewing to work out which song and artist gets that privilege – as Sweden searches for its seventh victory to equal Ireland at the top of the all-time Eurovision leaderboard.
This all may sound familiar, as of course the prize for winning Melodifestivalen a year ago was a trip to Rotterdam. Sadly due to you know what the 2020 Eurovision Song Contest was cancelled in April last year, and despite all countries having songs chosen, no winner was selected.

Some countries have chosen to select the same artist for the 2021 edition, but not Sweden. Part of this rationale is that the competition here just to select the song for Eurovision is such a big part of culture, tradition and the music industry that it would be sacrilegious to get stop Melodifestivalen taking place.The other reasoning is that Melodifestivalen, literally The Festival Of Melodies, is a competition of songs, not artists, and the European Broadcasting Union ruled that new songs would be needed for 2021. New songs need a new competition. 
You know what has contributed to the fact that, at least on the surface, this year's Melodifestivalen lacks the usual razzmatazz. All songs are to be performed from one venue, Annexet, which is part of the complex around Globen in Stockholm, meaning no grand tour from ice hockey arena to ice hockey arena around the land. Only the most essential of journalists and staff covering this year's Melodifestivalen will be on the ground and gone is the glitz and glamour of the much anticipated host city parties.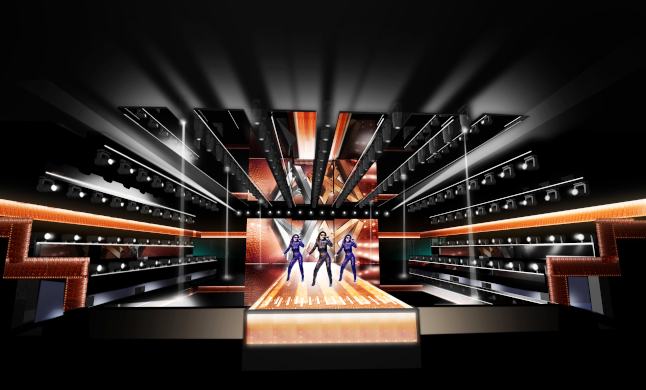 An artist's impression of the 2021 Melodifestivalen stage. Photo: Viktor Brattström/SVT
Unlike in other parts of the world where there are strict bubbles for artists and workers to be in at the venue, there is no such environment surrounding Melodifestivalen this year. However all involved are asked to follow the recommendations from Sweden's Public Health Agency, Folkhälsomyndigheten.
One example of those is the work of the house dancers, a team of four dancers that will perform in opening acts, interval acts and in 10 of the 28 competing compositions. They are asked to keep a distance of 1.5 metres at all times, and for rehearsals they are wearing distance sensors and face masks to follow the protocols. There is no mandatory testing at the venue, instead testing will only be done should symptoms be shown, and record labels have co-ordinated back-up singers for each of the acts should anybody fall ill in these coming weeks..
EDITOR'S PICKS: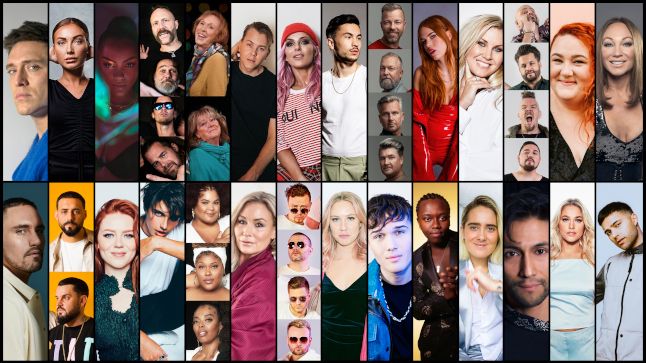 All the artists competing in Melodifestivalen this year. Photo: SVT
Despite all this, part of the brief of Melodifestivalen 2021 is, as always, about creating a party event for all of Sweden. In Swedish culture it can be common for many families up and down the land to join together to watch this highlight on the TV calendar. With meeting up in each other's homes something the recommendations here say to avoid currently, SVT have released their own Mello Tillsammans app, designed for families and friends to be able to share the live experience from wherever they are. 
There is also the rather unique opportunity to create a stage show with extra sparkle. Rather than a flat-pack stage that must be transported across the country each week, instead the stage can be set up for the entire production and changed to fit its new purpose.
Without an audience in attendance, the production no longer needs to consider the visual impact of the audience in the arena and viewing angles to the stage. Stage designer Viktor Brattström's design has incorporated a lower rigging with a mirrored ceiling and camera positions set far closer to the artists. The goal here being to enhance the wow factor of the TV viewing spectacle.
And performing on that TV spectacle will be a group of artists which together make one of the hottest lists of artists in the competition in modern times.
Previous winners returning to the contest include Arvingarna (1993), Charlotte Perrelli (1999, and the winner of the Eurovision Song Contest that year), Jessica Andersson (2003) and Eric Saade (2011) and last year's winners The Mamas.
Among the other favourites to look out for are Dotter, who only lost by one point in a super tense final last year, Tusse, the winner of the 2019 Idol series and Danny Saucedo, a notable 2nd place finisher in both 2011 and 2012 and one of Sweden's most established pop stars.
To get a list of artists so strong into the competition this year has in part the current global situation to consider. Danny Saucedo has already spoken to the press about why he thinks Melodifestivalen is one of the few avenues an artist has to show off their artistry this year, and how this is the best platform to show something new to the Swedish public. With concerts at this point in time a long-lost memory, here is a competition offering one of the few opportunities to perform to the masses.
And for those artists taking part this year, Melodifestivalen itself may be bigger than ever before. Sure there is no grand tour across the country, but with a country stuck at home live event television is expected to be a bigger draw. On Christmas Eve, more than 4.5 million people were watching those Donald Duck cartoons on SVT, the highest figure since modern records began. Melodifestivalen 2021 may have a similar viewing figure bounce as more people tune in to hear the spring's biggest hits live and endure the edge-of-your-seat voting finale. 
All of this means that despite the current circumstances this year's Melodifestivalen may be the biggest of a generation.
To watch Melodifestivalen this year tune in each Saturday to SVT1 at 8pm. The show is also available to listen on Sveriges Radio P4 and via SVT Play globally.
Ben Robertson is covering Melodifestivalen 2021 for ESC Insight.