More than 300,000 people in Sweden have received the first dose of the coronavirus so far, 3.76 percent of the population, including three out of four residents in care homes for the elderly.
But it looks like it is going to take longer than expected before Phase 2 of vaccinations – which includes all adults aged over 65 – can get properly under way.
According to SKR, the umbrella organisation for Sweden's regions and municipalities, the pharmaceutical companies have not yet delivered as many doses as they are supposed to.
"The regions' structures are built to handle a much higher pace. They are just waiting for the vaccine," SKR healthcare chief Emma Spak told the TT news agency. "Many had thought that the Phase 2 vaccinations would be able to start and that Phase 1 would be over by now. But they won't finish Phase 1 until the end of February."
(article continues below)
See also on The Local:
There are further stumbling blocks ahead. Sweden has ordered vaccine from several companies, but Moderna will not deliver its doses that were to arrive this week for another two weeks, and by then only half as much as expected, said the Public Health Agency. The doses will get to Sweden eventually, but later than expected.
Moderna is currently working to increase production capacity at its factory in Switzerland, which will eventually mean that they can deliver more doses faster, Sweden's vaccine coordinator Richard Bergström told DN.
But in for example the Kronoberg region, the delay means that vaccinations of over-80s will have to be postponed, reports local newspaper Smålandsposten.
In Skåne, regional director Alf Jönsson told a press conference that they were ready to crank up the speed on vaccinations in southern Sweden. "We have the material, staff and very high capacity. But where's the vaccine?"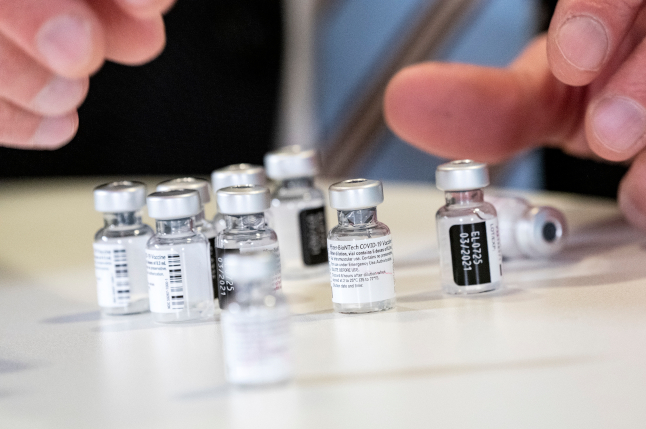 Empty vials of the Pfizer/BioNTech Covid-19 vaccine. Photo: Johan Nilsson/TT
The Public Health Agency's data shows that almost 385,000 doses of vaccine have so far been used, around 74 percent of the 520,000 vaccine doses that have been delivered.
Spak said the unused doses weren't piling up, but "are in the logistics chain with an expected delay of a few days. The vaccine first arrives at a hub in Sweden. It is then repackaged and sent out to the regions. Pfizer's vaccine goes directly to the regions".
Once the doses arrive in one of Sweden's 21 regions, they are again repackaged and sent to the organisations that are in charge of vaccinations, local surgeries and care homes.
Sweden has previously said that it wants to offer the vaccine to everyone over the age of 18 in the first half of 2021, but that this depends on external factors such as deliveries.
This is Sweden's current vaccination plan:
Phase 1:  People who live in elderly care homes or receive at-home care, as well as healthcare and care workers who have close contact with vulnerable people and other adults who share a household with people receiving at-home care.
This is the phase that got under way in December 2020.
Phase 2: This phase will include all adults aged over 65, starting with the oldest. The AstraZeneca vaccine is currently only recommended in Sweden for people younger than 65.
People with certain medical conditions have been added to this category, including those on dialysis or recent transplant recipients, and other adults who share a household with them.
People aged 18 and above who receive LSS disability support, and people working in the medical and care sectors who have close contact with patients are also included in this phase.
Phase 3: This phase includes 18-64-year-olds who belong to a risk group, for example people with chronic cardiovascular disease or diabetes, and it now also includes all adults aged 60-64, even those who do not belong to a risk group. 
As well as the groups at high risk of serious illness from Covid-19, this phase will also include people who belong to groups which may have trouble following the national recommendations to reduce the risk of infection. This includes for example people with dementia or Down Syndrome and homeless people.
Phase 4: This phase includes the remaining adult population, aged 18-59, who do not belong to a risk group.