Speaking at the authorities' biweekly press conference, the country's state epidemiologist Anders Tegnell said that several new recommendations would be announced, although he gave no further details.
"We have a package on the way which is going to be presented tomorrow [Wednesday]," he said.
(article continues below)
See also on The Local:
The new measures are coming as the country sees a sharp upturn in the number of cases, following more than a month of steady declines.
Sweden has now seen a rising number of cases for two weeks in a row, with an incidence rate of 445 new cases per 100,000 people over the past 14 days, which Tegnell described as "a much too high level".
"In Sweden, we are unfortunately seeing a fairly significant rise once again," Tegnell said, adding that a third wave in infections was now likely but still not inevitable.
"If we're lucky we can all help out, and if all these measures go well, then we can avoid it. But it's very clear that if we don't improve our adherence, then there's a very big risk that we're on the way into a third wave."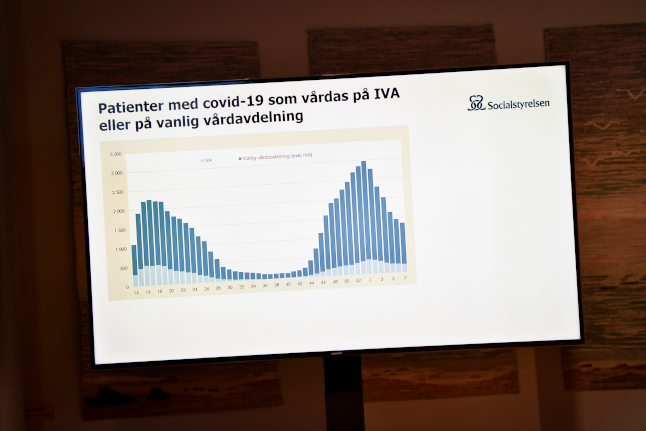 A graph showing the number of Covid-19 patients in hospital (dark blue) and intensive care (light blue). Photo: Henrik Montgomery/TT
In the spring, the Public Health Agency recommended that people avoid all unnecessary travel more than two hours from where they lived.
Asked by The Local why such recommendations were not being considered during the current winter sports break (sportlov), Tegnell argued that conditions in the spring had been very different. 
"During the spring, we had for a while huge differences in the spread of the virus in different regions in Sweden… and at this stage, we have a fair amount of spread in all regions, so that reason for travel restrictions doesn't exist any more," he said.
In addition, he said that the experience of Christmas had convinced the Public Health Agency that internal travel during public holidays was not a big risk. 
"We were quite worried that there would be a peak after the Christmas holidays, especially. But we could actually see that it peaked just before Christmas, and it kept on going down for several weeks after everybody returned, so that the holidays in themselves did not cause an increase of the number of cases," he said.
"And it was sort of same after the summer. So we cannot really see that there is any direct connection between breaks and an increased spread of the virus."
Tegnell said that the more infectious British variant was spreading extremely rapidly, and was now being detected in as many as 27 percent of all virus samples tested in Stockholm, the region where it was most established.
He said it now seemed "almost inevitable" that the variant would become the dominant one in both Europe and Sweden, "within a few weeks or a month".
Asked how worried he was that vaccines would be less effective against the British variant, Tegnell said he saw "no risk at all".
"It seems to work just as well. With the two others [the Brasilian and South African variant], it's a little unclear," he added, but he said that there seemed little risk that they would become sufficiently widespread to be a serious problem.