"I feel completely humiliated and violated," Ehab Khaireldin, who works as a programmer for a major Scandinavian company, told The Local of the incident, for which he says he was given no explanation.
"This is not supposed to happen to just a random person passing by, and I've never in my whole life had any sort of involvement with the law. I've never even had a jaywalking ticket."
Khaireldin was going through customs on his return from Poland, where he used to live and work, when he was stopped.
"I was arriving on a flight from Warsaw and I was the only kind of racially different guy on the flight, so that might have triggered some sort of an alarm, because I was the only one on the whole plane that was picked out."
A spokesperson for Swedish Customs said that Khaireldin should file a complaint, but denied that he had been the only person singled out.
Khaireldin said the border police officers started off by refusing to accept his papers.
"They didn't even believe that my ID and residency permit was real, so I was waiting for 15 to 20 minutes, and then they realised everything was normal."
After that, customs officials went through his luggage, checked all of his pockets, and opened up the protein bars he was carrying to check they did not contain drugs. When those were clean, they took him to be strip searched.
"They took me into a really tiny room, it's like two metres by three metres, and they asked me to take over my clothes off," he said. "Then they asked me to do all these kind of weird body movements, basically to expose my cheeks, to show I'm not hiding anything in there."
"I had no space to negotiate or defend myself, just to stand in the middle of this cold room, with these two guys wearing gloves, and I didn't know what was going to happen next."
Khaireldin said that he understood the need to carry out customs searches, but felt that he had both been singled out due to his ethnicity and also not been treated with courtesy.
"They were extremely rude throughout the whole process. I didn't get a single apology, or a 'we're sorry, that was a mistake'. Nothing at all.
"They could have at least apologised for the inconvenience. It felt that they were extremely disappointed that they found nothing. I'm just stunned by how much confidence they had. You could see in their faces how disappointed they were."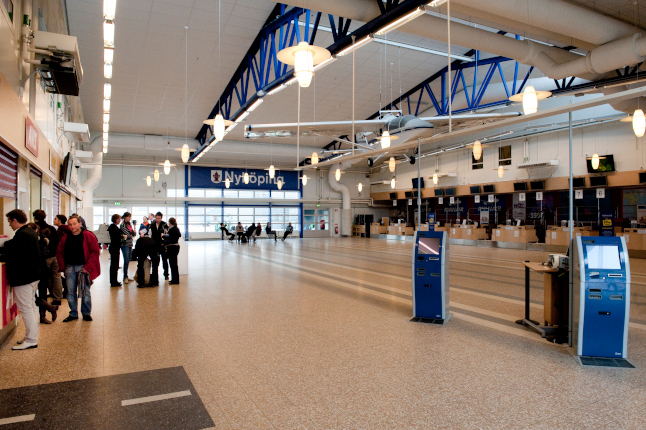 File photo of Skavsta Airport where the incident took place. Photo: Pontus Lundahl/TT
"Based on his testimony it seems like he had a bad experience meeting our officers. We recommend that he file a complaint to us. We will then investigate why he was picked out and what happened during the control," a spokesperson for Swedish Customs told The Local.
"His claim that he was the only person picked out is not right. There were other people from this flight controlled before him and after him. This is relevant when it comes to the accusation of discrimination." 
The spokesperson said that undergoing a strip search was "of course not a pleasant experience when it comes to matters of integrity, but it's within our authority".
"Our task is to stop drugs and other dangerous things. Regardless of what happened in this case it's important that we handle this authority correct and treat the people we control with respect."
Khaireldin said that he suspected that people living in Sweden with ethnic backgrounds might be subjected frequently to similar treatment and simply stay silent.
"I'm pretty sure that this happens quite often, but mostly to those who can't really defend themselves," he said. "I think they might have assumed that I belong to the social class in Sweden that you can really do anything to, and no one is going to complain.
"I think this time, they might have miscalculated a whole bunch of variables in the equation."
According to a 2017 report by the human rights group Civil Rights Defenders, racial profiling is a daily reality for many people of different ethnicities living in Sweden.