"It is with great joy that I can now say that the vaccination of those with the greatest need of them has had an effect," Johan Carlson's the agency's director-general, said at a press conference.
(article continues below)
See also on The Local:
"The Public Health Agency has today concluded that it is now time to tell those in elderly care homes who have been fully vaccinated that it is OK for at least parts of their life to return to normal. It's fine to meet relatives without any symptoms. Those who are fully vaccinated can hug their grandchildren again."
In a press release issued alongside the press conference, the agency said that 83 percent of those over the age of 65 living in elderly care homes had now received at least one dose of the Pfizer/BioNtech vaccine, and as many as 70 percent had received two doses.
As a result, the number of new coronavirus cases in elderly care homes has fallen dramatically, from as many as 900 a week before vaccinations started just after Christmas to less than 40 last week.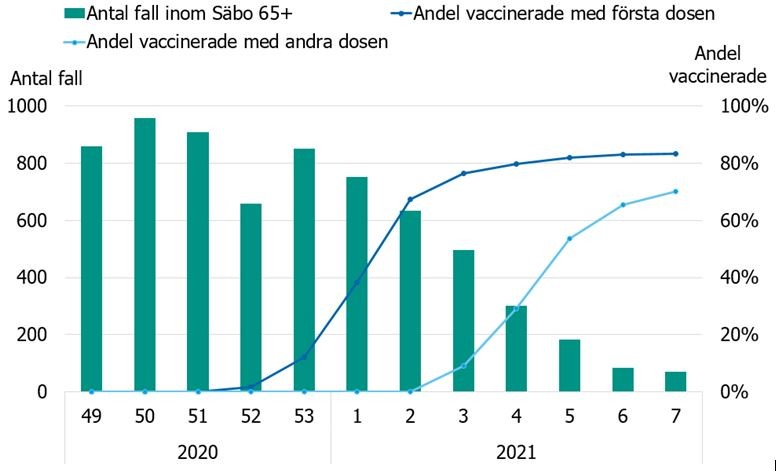 The number of cases is on the left axis, and the percentage of care home residents vaccinated is on the right. Graphic: Public Health Agency of Sweden
In the release, the agency said that although elderly care facilities should in general no longer need to impose an overall ban on visits from relatives, they should be careful to protect those who have yet to be vaccinated.
"For a home with a high proportion of vaccinated there is as a rule no reason to bring in measures which restrict the personal freedom of the resident at home as drastically as a ban on visits does," it said.
More than 450,000 people have been given at least one dose of the vaccine, and more than 235,000 have been given two doses.
"It's increasing rapidly," Sweden's state epidemiologist Anders Tegnell said at a press conference.
On Tuesday, Sweden agreed to participate in a new EU purchase agreement for the Moderna vaccine which will mean the country has access to at least 3.6 million more doses in the second half of this year (with another 3.6 million delivered in the first half).
"There are several reasons to have more deliveries," Sweden's Health Minister Lena Hallengren said. "The approved vaccines give a good protection, but we don't know how long that protection lasts, and we can't rule out that a booster dose might be needed to make the effect last longer."
Richard Bergström, Sweden's vaccine coordinator, said that the additional doses would be "extremely important."
"This opens up a new chapter, which allows us to offer the vaccine to those who will not receive the vaccine now around spring, that's to say children, young people and others."