"It is a real strength that we have reached an agreement," Sweden's defence minister, Peter Hultqvist, said after the deal was reached on Wednesday evening. 
The Swedish Armed Forces aims to use its increased budget on new surface-to-air missiles, air-to-air missiles for its planes, and armoured personnel carriers with tank tracks. Under the deal, it will receive an extra two billion as early as this year.  
Under the deal, the parties also agreed to spend an extra 800 million kronor on civil defence, which will, among other things, go towards boosting the country's rescue services and renovating bomb shelters.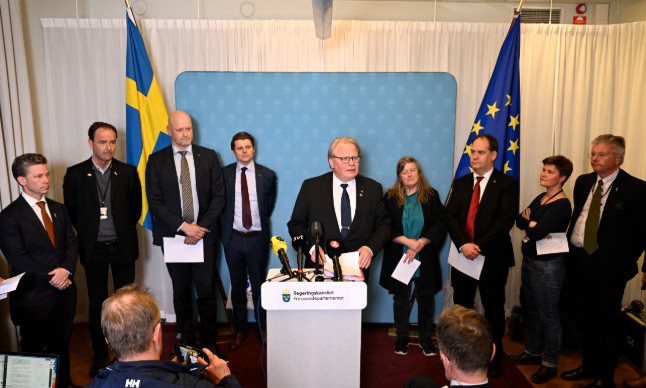 Sweden's defence minister, Peter Hultqvist (centre) and defence spokespeople for the other parties, after the deal was struck: Photo: TT
The Civil Contingencies Agency has passed the government a 1.8 billion kronor wish-list, which includes money for strengthening protections for the civil population, renovating bomb shelters, and repairing emergency sirens.  
The agency also wants to launch a new communications campaign to help individuals increase their own preparedness, money to help municipalities speed up the restoration of their own civil defence plans, and money to protect electronic communication and post.