"Finally!" Sofia Hoas, the chair of the Svenskbyborna Association wrote in a Facebook post. "The Russian occupants left Gammalsvenskby yesterday."
The news is not all good, however, as the Russian occupants destroyed much of the village's vital infrastructure before they withdrew.
"Before they left they knocked down all the electricity lines around the village and mined everything in the surrounding area," Hoas said.
"They also said that the village will be destroyed from the other side of the river."
The Gammalsvenskby village lies on the Dniepr river in Kherson Oblast, with the area on the other side of the river still under Russian control.
"As a leaving present, they destroyed Kungsvägen, as well as the road to Novo Berislav," Hoas said.
Kungsvägen, literally 'Kings Road' was built in 2008 to coincide with the Swedish King and Queen's visit to the village the same year.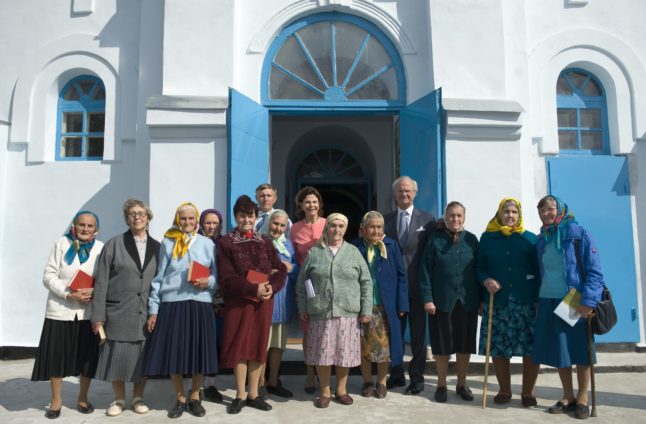 King Carl XVI Gustaf and Queen Silvia visit Gammalsvenskby on a state visit to Ukraine in 2008. Photo: Henrik Montgomery/TT/Scanpix
According to Hoas, the village is now "isolated" with a "large risk" of bombing.
The Svenskbyborna Association, along with Swedish aid organisations Blågula bilen and Operation Aid, are working with locals to provide assistance to the village, which now has no access to electricity, water or internet.
"They don't have any fuel either to keep their houses warm in the run-up to winter, which is now knocking on the door," Hoas said. "Evacuation to safer areas might also become relevant, if needed."
She added that those wishing to provide assistance to the village can donate to the Svenskbyborna Association by sending a plusgiro to 187879-2 or sending money via the Swish service to 123 437 61 41.