Norwegians are pretty much Sweden's cousins with cod, coastline and oil. When the right-wing, white supremacist (pick your own version of evil white guy who hates non-white) Anders Breivik, killed 77 people, most of them young adults and teens, in Norway last summer, all Swedes mourned with their cousins.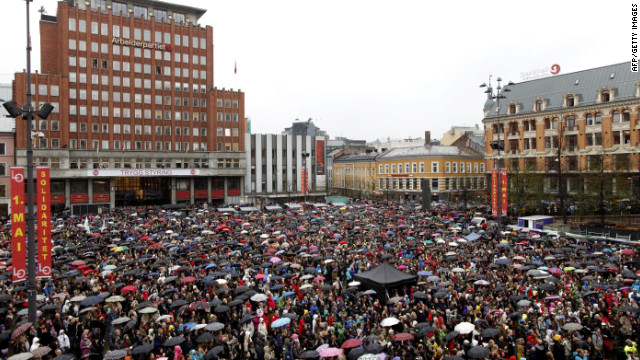 Yesterday, about 40,000 people joined voices to sing together. Their purpose: to annoy Breivik. They sang
"Children of the Rainbow" by Norwegian folk singer Lillebjørn Nilsen. It is Nilsen's adaptation of "My Rainbow Race," written by American folk singer Pete Seeger.
The satisfactory charm of the protest was the reason behind why they chose this particular song. During the ongoing trial, Breivik had cited the song as an example of Marxist influence on Norwegian culture saying the song was "typical of brainwashing Norwegian student."
In the Norwegian version of the song the chorus goes, "Together, we will live, each sister and each brother, small children of the rainbow and a green earth."watch the event on YouTube. According to TheLocalNorway
The Swedish Cultural Minister, Lena Liljeroth, more likely in the news these days over her infamous FGM political gaffe, was among the community singers.
Liljeroth could use some good press about now. I just hope she didn't sing in blackface.