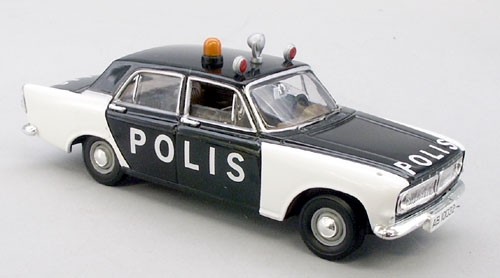 This is a TRUE detective story. Yes! I've purchased a vintage model, and I've cracked a mystery at the same time. It may seem strange that it's a Ford, when we are more used to seeing Volvos etc. In fact, the Swedish Police have used a whole variety of cars since wayback. It is a Ford Zephyr 6 Mk III. I believe only a small number were purchased, brought in part-built and assembled at the SAAB plant in Trollhättan. The Mk III only had a short run from 1962 – 1966, with only 105,256 made.
O.K. I'll come clean. When I say it's a model, it really is that. A model on 1:43 scale. But it is in mint condition and authentic to the period. Very wisely, the previous owner has kept this away from kids' hands. So mine has the original wing mirrors intact (missing, you will observe in this photograph). I got it cheap off a stall on the market, for 5 English pounds sterling. It's worth more, but the stallholder was impressed that I knew about its provenance, on what he believed to be a German police car. If it had been in it's original box, it would have been worth nearer 30 to 40 GBP.
For 5 quid it's provided me with a lot of fun researching the background. Of particular interest is the livery. The black and white markings are correct for the period. In fact these original police cars were painted with a white top. They were re-sprayed black, after complaints from police forces in Northern Sweden that they could potentially 'disappear' in a snowdrift, and not be visible to police helicopters etc.
You see correct examples of the B&W cars in the film of 'Let The Right One In' set in 1981. The police livery was changed to white and blue from 1985. Then from 2005 the familiar blue and flourescent yellow 'Battenburg' livery was adopted. You see examples of both of the latter as they are phased in, as seen in the Swedish (Henriksson) 'Wallander' TV series. The 'Battenburg' pattern was actually NOT designed to reflect the colours of the Swedish national flag. An attempt to solve an old problem. The odd geometric configuration was actually 'designed-in' by research psychologists, to maximise visibility. In an odd 'twist-of-fate' the configuration has been re-imported to many of the U.K. police forces.
So, what became of this Swedish police car? The Zephyr was judged a bit 'lightweight' for Swedish requirements and wasn't re-ordered. It may have been hardy enough for English Pennine police forces, but not reliable enough for Swedish winter weather conditions. It was in use around Stockholm and Göteborg in the south of Sweden, but was consigned to routine traffic duties. Far from the heady 'cop-chase' action thrills as seen on the 1960's BBC groundbreaking gritty police drama of 'Z-cars' where the Ford Zephyrs of the title, were as much characters, as the actors.
At this point, the last part of my mystery puzzle started to fall in place. Why such an unrepresentative version of a Swedish police car? The toy I have is one of a limited edition of 2,300 produced for the 'Police Cars of The World Series' by Vanguard/ Corgi. The answer to why Valiant chose this model, is that they already had the die-castings as they also produced a West Yorkshire police version, so they just needed to make a few adjustments (note it is left hand drive) and change the livery.
So a slightly ignoble ending to a story of valiance. But, for 5 quid, this toy model has provided me with much joy, and more of a 'do-it-yourself' detective story than many a 'Nordic Noir' paperback!
K.M.