Presented by sifa
Learning Swedish: the fast way to fluency
If you're an international resident of Stockholm, learning Swedish can seem a painfully slow process. Perhaps you've become reluctant to risk even trying to speak the language with the locals – after all, their English is largely faultless.
But the truth is you're missing out. Learning Swedish could help you make new connections, open up greater opportunities, and give you the chance to better understand your host country. 
A new, intensive course offered by the City of Stockholm has been designed to help you chart a clear path towards Swedish proficiency in reading, writing, speaking and listening. And while the course is completely free, it's primarily aimed at graduates – and can help you move forward at surprising speed.
Learn Swedish in Stockholm the fast way – find out the upcoming application deadlines to start studying in March
Pace-setting for professionals
The course, Intensive Studies in Swedish, is provided by SIFA (Stockholms intensivsvenska för akademiker), which is run as part of the City of Stockholm's adult education programmes.
It provides Swedish courses designed to help highly-educated professionals push themselves – with plenty of help from their teacher and class-mates. Students come from all around the world, including across Europe, Russia, the Middle East, North America, and South America. To apply, you need to be a resident of Stockholms Stad municipality and be used to studying at a high pace.
Structured support 
Unlike the free, national Swedish for immigrants (SFI) programme, SIFA's courses have a distinct structure. You can therefore only join on a few particular dates during the year (keep reading for more details). New students signing up for Intensive Studies in Swedish will start from either SFI C level (for those without any prior knowledge of the language) or SFI D. 
You can eventually work your way through six courses – each usually lasting nine weeks – across three levels. After finishing a course, you usually start the next one immediately (although you can delay this and return to the next level later on if you so wish). 
 You can sign up for either the online course or the classroom option. Due to the Covid-19 pandemic, the latter is also currently done through remote study. However, the classroom course still involves up to 25 hours of teaching hours per week. 
The online course, on the other hand, involves no more than three-and-a-half hours of teaching per week. You're then free to do the remainder of your studies in your own time – whenever and wherever you wish.
Intensive studies in Swedish: find out more about the online and classroom options
"It's intensive and that's what's good about it," says Paulina Dekoj, a teacher on the online course. "There's a structure that keeps everyone on the same page. But people can also manage their own time to do what they need every day." 
The pace helps people who "know a couple of languages already" to thrive, she says. But Dekoj also emphasises how SIFA provides flexibility to support its students. "I have a 30-minute one-to-one session with each student weekly and that can be in the evening if needed," she says. "If you're too busy with work or kids, you can also double the 9-week length of a course."
Clearly defined goals and benefits 
SIFA has been teaching Swedish to graduates since 2005, mainly through courses tailored for specific vocational groups. The new Intensive Studies in Swedish course is for all qualified graduates and prepares you for working life in Sweden or undertaking university studies in Swedish. SIFA puts equal emphasis on reading, listening, speaking, and writing, as well as developing your grammar and vocabulary. 
Anirban Dey, who moved to Stockholm from India in 2018, has been studying at SIFA since early 2020. He says he had already tried an SFI course at a different institution, which had left him "disheartened".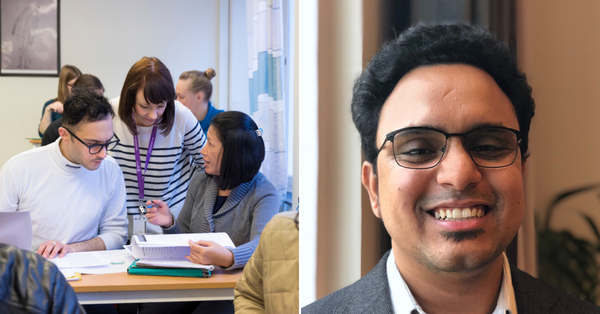 Photos: SIFA/Anirban Dey
"I found the course structure disorganised and I couldn't find the motivation to continue," he admits. "But at SIFA, there's a distinct starting point, tiered outcomes on an almost weekly basis and a clear end goal. I'm fully motivated to continue until I reach my goals."
In addition to your career or studies, learning Swedish could also prove vital to long-term integration. Sweden's government recently outlined proposals that would require people applying for Swedish citizenship to demonstrate Swedish language skills in speaking, writing, reading and listening.
"Language is the key to work, but also the key to society," said Morgan Johansson, Sweden's Justice and Migration Minister as he outlined the proposals. The government is also looking separately at whether language skills should be required for permanent residence in Sweden.
Ready to learn Swedish the fast way? Click here to find out more about SIFA's Intensive Studies in Swedish and how you can apply. The application deadline for the next online course is March 5th and the deadline for the next classroom course is February 26th.
This content was paid for by an advertiser and produced by The Local's Creative Studio.
See Also