Green Party co-leader Per Bolund, who is currently Financial Markets Minister and Deputy Finance Minister, will become Deputy Prime Minister and Environment Minister – replacing Isabella Lövin, who left the government when she stepped down as Green Party co-leader earlier this year.
"To me there is no more important task in government than Climate and Environment Minister," said Bolund.
(article continues below)
See also on The Local:
Lövin's Green Party successor Märta Stenevi will become Gender Equality and Housing Minister.
Löfven leads what the government calls "the first feminist government in the world" and has said that gender equality should be a key part of any decision the government makes. Stenevi said that Sweden still was not fully gender equal. "Every third week a woman is murdered by her husband, her ex-husband or boyfriend," she said.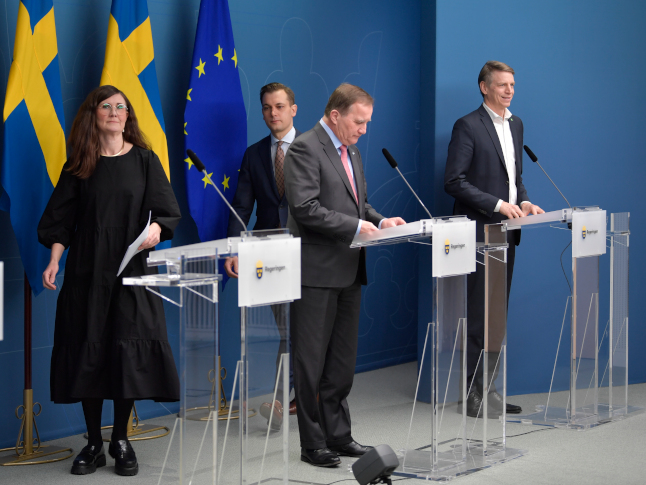 From left, Märta Stenevi, Per Olsson Fridh, Stefan Löfven and Per Bolund. Photo: Anders Wiklund/TT
Åsa Lindhagen, currently Gender Equality Minister, will replace Bolund as Financial Markets Minister.
And Per Olsson Fridh, another new minister in the cabinet reshuffle, will become Minister for International Development Cooperation, replacing Peter Eriksson who resigned just before Christmas.
Olsson Fridh was previously Eriksson's state secretary, the highest position below the rank of cabinet minister.
Löfven's government is made up of a Social Democrat-Green coalition, and all four ministers announced on Friday morning represent the Green Party. Asked at a press conference why no Social Democrat ministers were affected, he said it was because the reshuffle was largely due to the departure of Green Party ministers.
The Social Democrat leader added that he deliberately wanted to keep this reshuffle no bigger than necessary, so that ministers could keep focusing on their work without disruption during the ongoing pandemic.