What is sportlov? 
Sportlov is a one-week school holiday at the end of February, which is also sometimes called skidlov, ski holiday, and is intended to be used for children to do winter sports. 
According to the Lund University historian Dick Harrison the holiday was originally brought in in the 1940s to save fuel in school heating systems during the coldest weeks, and was originally called kokslov, after the Swedish word for coke, the fuel then used.
When it became more established in the 1950s, it was intended to reduce the infection risk from schools, only becoming associated with winter sports in the 1960s. 
When is sportlov this year? 
The holiday kicked off last week (week 7), in Gothenburg and some other parts of Västra Götaland, Halland, Jönköping and parts of Östergötland. 
This week (week 8) schools break up in Skåne (and therefore Malmö), Blekinge, Kalmar, Kronoberg, Södermanland, Uppsala, Örebro, parts of Östergötland, and parts of Västra Götaland. 
Next week (week 9), it's the turn of Stockholm, Dalarna, Gotland, Gävleborg, Värmland, and Västmanland.
Children and parents in areas such as Jämtland, Norrbotten, Västerbotten and Västernorrland have to wait until week 10. 
Why is this year tricky for parents? 
Many of the indoor activities parents would normally do with their children are not possible this year. A lot of museums, public swimming pools, and ice-skating rinks are all closed. 
So, what to do? 
Go on a skiing holiday anyway
Strictly speaking, there's nothing stopping you from taking a week off skiing at a Swedish mountain resort, despite the pandemic. Pictures of crowded lifts in ski resorts would indicate a lot of other people are.
But after a cluster of coronavirus infections caused by vaccine-resistant variant first discovered in South Africa were confirmed in Sälen, one of the most popular resort areas, is it really a good idea? Remember that Stockholm's infectious disease doctor has warned people not to travel unless absolutely necessary.
Sweden's royal family last week set an example when they cancelled their own planned mountain ski trip. 
If you are going to a mountain resort, be sure to follow the recommendations of the Public Health Agency, and keep your contact with others to a minimum. Here's our guide to the sportlov recommendations. 
But there's plenty of fun to be had without taking unnecessary risks. Scroll down for more information.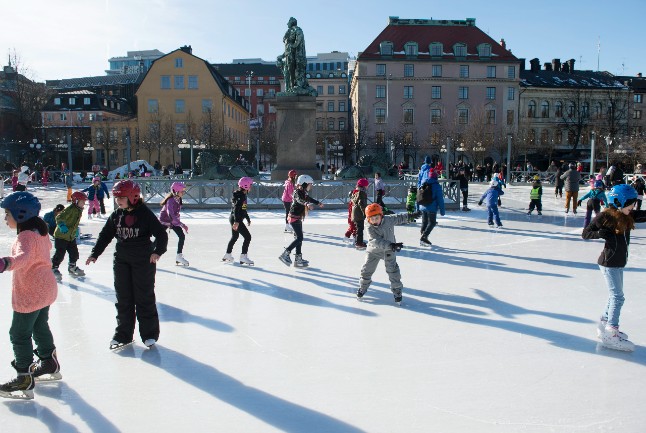 Children skating in the Kungsträdgården park in Stockholm back in 2013. Photo: Fredrik Sandberg/TT
Winter sports away from the crowds 
As you can see on the snow depth map from the state weather forecaster SMHI, you don't need to go to a crowded mountain resort to ski, so long as you're doing the cross-country variety. And even with this week's warmer weather, there's still a lot of skateable ice on Sweden's lakes and coasts.
You can also check out the conditions for any ski tracks near you on the Skidspår website. You can check out a list of ploughed ice-skating tracks here. 
In Stockholm, the famous ice rink in Kungsträdgården (the King's garden) is open, despite the pandemic (but the skate hire is closed so you need to bring your own). 
The Hellasgården outdoor recreation centre in Nacka rents out cross country skis, making it a good place to access the cross country ski tracks of the Nacka nature reserve. You can also hire ice skates to go out on the lake. 
Edsviken in Danderyrd also has a well-maintained ice-skating track which should be good for next week. 
In Gothenberg, Heden's Skidlekpark, or ski playground, seems to be just about skiable, although the quality looks so so. 
In Malmö, warm weather melted away the last of the ice and snow over the weekend, and you will have to travel up to the highlands of Småland to have a chance of cross-country skiing. Doesn't matter – spring has almost arrived in southern Sweden, so put your skis back in the attic and go for a walk instead.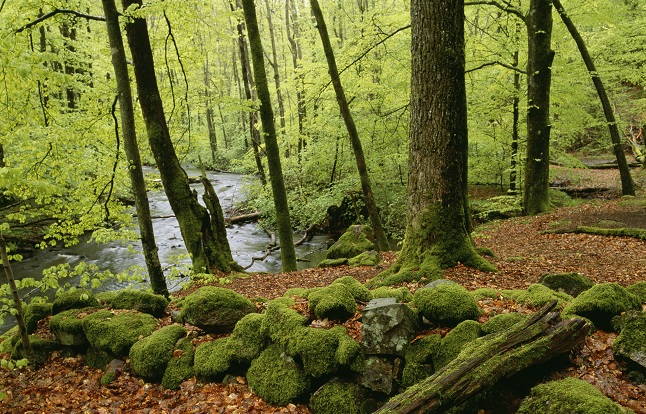 A wall in Söderåsen. Photo: Sven Halling/Johnér
Go for a walk 
One of the great things about living in Swedish cities is how quickly you can get out into nature. Around Malmö, there are beech forest areas of Söderåsen, Romeleåsen, and Häckeberga, or closer to the city in Torup.
Around Stockholm, there are great hiking grounds nearby. During the pandemic, you are recommended to avoid using public transport to get there. Gothenburg's Götaleden is also easy to get to.
Go to your local park
Your kids will probably have just as good a time as if you do something more ambitious.
If in Stockholm go to Djurgården, Hagaparken, or Rålambshovsparken. If in Malmö, go to Folketspark, Slottsparken, or Pildammsparken. If in Gothenburg, Slottsskogen of Kungsparken. If you need to make it special, just buy more unseasonable ice creams. 
Let them have one week's unlimited screen time 
Give up on trying to limit your children's use of iPads, phones, gaming consoles or television and let them do it from the moment they wake up until the moment their frazzled brains check out for the night. We're not seriously suggesting that you do this, but, you know, desperate times.
Give up and send them back to school 
Even if schools are closed for tuition, they're often still open for childcare. Swedish authorities have emphasised the importance of children's mental wellbeing throughout the pandemic. For that reason, most after-school clubs and holiday clubs (fritids) have remained open, at least for younger children. So if it all gets too much, just send your kids back to fritids. Even if you haven't booked in advance, often you can still get a place if you ring and beg.