Presented by sshl
School uniforms: why the controversy?
For a country praised for its commitment to equality, Sweden's attitude towards school uniforms has long been an uneasy and adversarial one, often creating both debate and controversy.
As recently as 2017, the Swedish Schools Inspectorate ruled against an international school in the city of Norrköping, which warned that students could be disciplined if they didn't wear their uniform "correctly", was "not following constitutional requirements regarding the contents of its rules" and that students' clothes "should be seen as an individual expression and determined by the students themselves".
It's an ostensibly odd Swedish quirk. After all, this is a nation that adheres to 'Jantelagen' which is a foundational pillar of Swedish society. Put simply, the cultural tradition embodies the belief that no one is better than anyone else.
What could be more Jante than a school uniform, the great equaliser of the teenage years? No oneupmanship about who has the fanciest trainers, or the most expensive jeans. No bullying of kids whose parents can't afford pricey fashions. Everyone dresses the same and can concentrate on their schoolwork.
But the Law of Jante loses out to another unwritten rule - that Sweden cherishes the individuality of its children more than most nations. Children should have agency. They should not be forced to wear clothes they do not want to wear.
But what if some children actually want to wear a school uniform? What if they think it's actually quite cool?
One of Sweden's oldest schools - Sigtuna Humanistiska Läroverket (SSHL) - take a different approach. This coeducational independent boarding school, located just north of Stockholm overlooking Lake Mälaren, is one of the few Swedish schools that has a school uniform. And it's very proud of its heritage.
According to Carina Nilsson, the principal of SSHL, the school's parents and students love the school uniform. "It's usually the first thing they ask us about, even before the books - 'when can we have the uniform?' "
Learn more about how your child can benefit from attending a boarding school such as SSHL
The school uniform at SSHL is not compulsory. "We ask students to wear it on Wednesdays and on special occasions, especially when they are representing the school. But some children ask us if they can wear it more often. It's totally up to them."
Max and Oscar Hermans are 13-year-old twins whose parents moved to Sweden from the UK last summer. At their previous school the twins, like most British children, wore compulsory uniforms, and they're totally comfortable with having to wear one once a week and on special occasions.
Oscar likes the uniform. "It feels a lot like wearing a suit, because it's mandatory to wear a belt with the trousers, which I think is cool. Honestly, it makes me feel quite grown up."
Max feels proud when he's out in the local town with other SSHL students wearing their uniforms. "It feels good. In some ways, it makes you feel more responsible. Like you are representing the school almost. You're part of the school. Because you know, you can see all the students are wearing this uniform. But it's not such a big thing for us, I don't think, because we're used to wearing uniforms in the UK."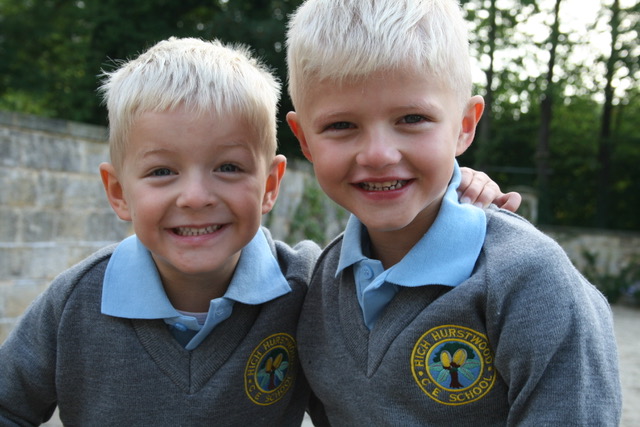 Max and Oscar at school in the UK
But Max agrees that, on the days SSHL students wear the uniform, there's a lot less boasting about the casual clothes they have. "On uniform days there's none of this chat about the coolest shoes or the best clothes. Everyone is a lot calmer."
Oscar agrees. "As well as liking how smart it makes me feel, I also like uniform days because I don't have to think about what I'm going to wear. There's no need to feel competitive or worry about what to wear. I just put on my uniform and I'm ready to go."
Pia Lötbom is responsible for buying and distributing the uniforms at SSHL. "I was a student here 40 years ago. I also have three children and all of them have been here, and I've been working at the school for 28 years."
Discover the benefits of a school that values tradition and progressive educational methods
Pia is very supportive of SSHL's uniform. "I think it's a good thing. First of all, it's very good marketing for the school. And it's good for behaviour. When you see the students in town dressed up, I think they behave very differently. I think they are quite proud of wearing the uniform and representing the school respectfully. And I've had calls from other schools asking for me advice on how and where to get a uniform. I've had quite a lot of interest."
Ultimately, though, whatever your opinion on uniforms, they are not at the core of a child's education. To Swedish and many other international parents they can be an exotic accessory to their child's education. But it's the education that matters and SSHL excels in its approach to education.
Yet Carina, the school's principal, has a special place in her heart for the uniform. 
"I get a real sense of pride when I see the students wearing their uniforms as they walk into assembly or on special occasions. I think, and I'm pretty sure they think, that it's pretty special. It's just a really nice tradition." 

Learn more about the innovative school north of Stockholm – applications are open now.                                                                                                            
This content was paid for by an advertiser and produced by The Local's Creative Studio.
See Also