"I moved here in '88 and my Uncle Keith and Auntie Adrienne have never missed a Christmas or birthday, so it was a bit unusual," he told The Local. "I didn't want to say, 'did you send me a card?' Because, you know, then if they haven't sent me a card, they're gonna feel bad about it. So I just left it."
But then yesterday, on January 26th, the card finally arrived.
"I emailed him and he says, 'yeah, we sent that on the 7th of December. I tell you what? We'll save the postage. Have that one for next year'." 
Jones posted the card up on the Brits in Sweden Facebook group, where there have been hundreds of posts complaining about the poor service at PostNord, the Scandinavian postal service, over the past few years. 
He also posted a screen grab from Google Maps showing how long it would have taken someone to walk the distance from his uncle's and aunt's house in Bromley, South London, to his flat in Mora. 
"Google says you can walk the 1,117 miles in 326 hours (or 14 days)," he joked. "If you took a tent you could walk ten hours a day and make it from Bromley to Mora in 32 days."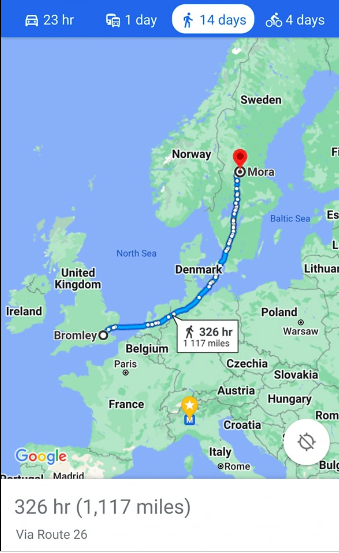 "It seems like a very long time," he added. "At least I haven't taken down my Christmas tree or lights yet as most of us in Mora do that after the first Sunday in March, in connection with the Vasaloppet [ski race]."
EXPLAINED: How to send and receive post and parcels in Sweden 
Many commentators pointed out that the card could well have been delayed by the postal strikes in the UK, but Jones is not certain that they had started on December 7th. 
"There's been strikes in the UK, but maybe not the first week of December," he told The Local. "Somebody wrote that someone in England had sent cards to Iceland, Sweden, and New York, and the New York one got there before Christmas, the Iceland one got there before New Year, and the Swedish one got there this week."